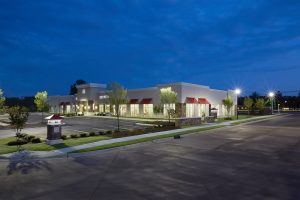 Metrocon recently completed the first of five medical office buildings in Clayton, North Carolina at the HealthPark at Forty Two West medical park.
Directly across the highway from the new UNC/Johnston Health Hospital on NC 42 West, work is progressing on a new Medical Park subdivision. Work includes a NC Hwy 42 road widening, re-configuration of an existing traffic signal, extension of the public water and sewer lines, the new HealthPark Way road construction, grading and utilities, site lighting, landscaping and more.
Buildiing 1, a twenty thousand square foot building shell, is nearing completion. That's good timing because the Developer recently announced that the UNC Hospital System (Urgent Care, Primary Family Care) and also Raleigh Opthalmology will soon occupy the building. Leasing for the second building is now in progress. The Park will consist of a total of 5 medical office buildings with common site amenities.